"IT IS POSSIBLE"
2020
POLITICAL CAMPAIGN
IN THE SPRING OF 2020, both of my State Representatives announced they were retiring.
After several weeks of looking for other Progressive candidates, and with no others stepping up, I decided to run.
I viewed this as another chance to explore how art and politics could intersect — something I had begun to explore in my
2018 campaign
, and started to expand upon with the formation of
Democracy Creative
.
"IT IS POSSIBLE"
THE CORE MESSAGE of the campaign was "IT
IS
POSSIBLE." The campaign launched shortly after Bernie Sanders had dropped out of the Presidential race in 2020.
It was frustrating to me back then — and still is — that so many people believed that big changes to our society were not feasible. Medicare For All, for example — versions of which are implemented in most other industrialized nations — was labeled as impossible by critics in America.
IT
IS
POSSIBLE was about getting people to see that these things could be done. I believed then, and still do, that when a critical mass of people truly recognize that these changes are possible to create, they will be realized. Until then, we are up against the intertia of the past, and a narrow view of what it is possible to achieve.
This core message was communicated in the above video I wrote.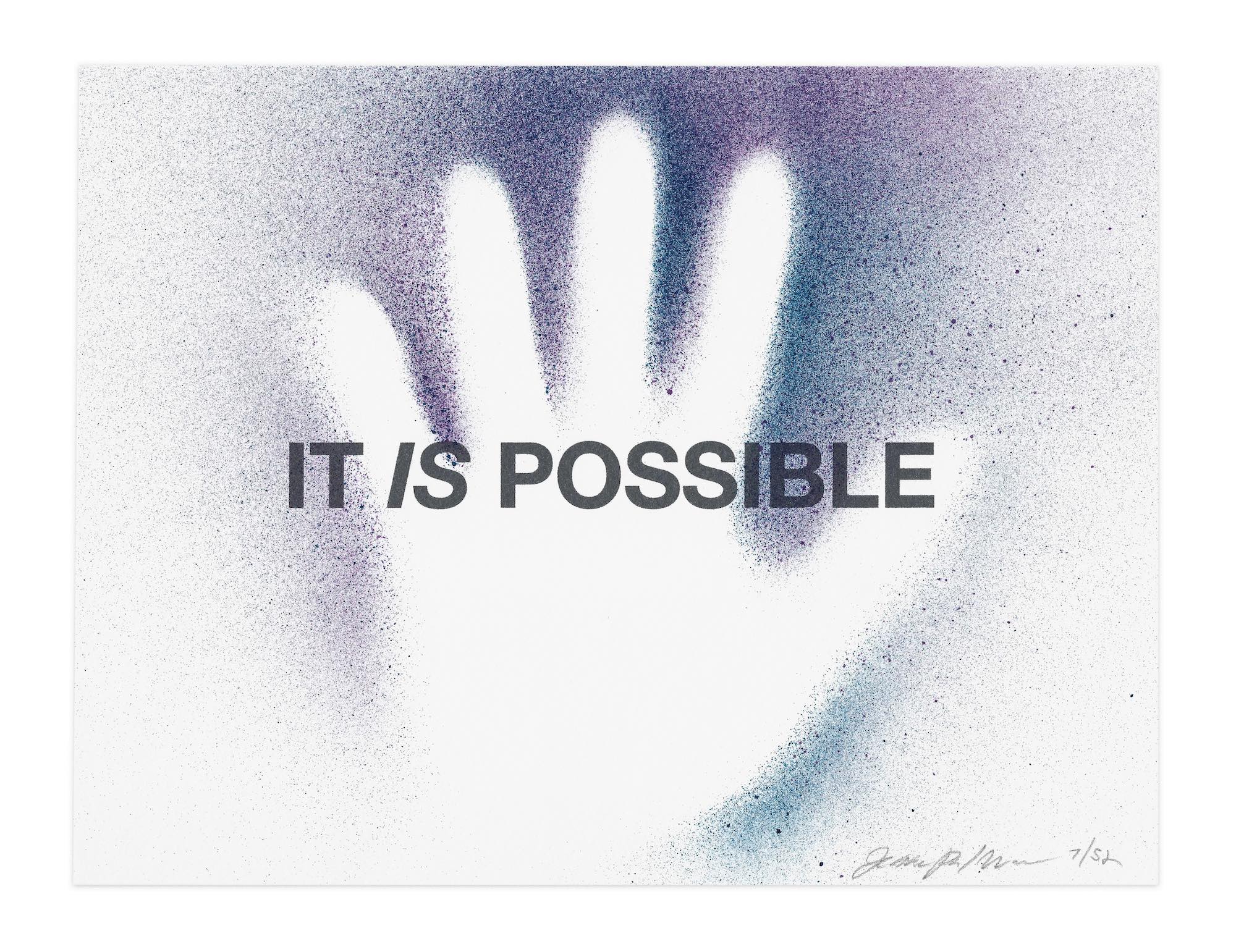 "A NEW KIND OF GROWTH"
WE LAUNCHED THE CAMPAIGN with a list of over
two dozen early endorsers
, which quickly grew. To express my gratitude to these early supporters, and set the tone of the campaign as one that was thinking differently, I made these art prints.
The idea I settled on was inspired by some of the earliest known examples of art: hand prints on cave walls where early humans blew pigment out over their hands to leave a handprint.
I wanted people to imagine how much we have done since then that would have been considered impossible. And I wanted people to consider that the future could be about a growth
within
us, rather than without in the form of greater industry:
"2,000 STEPS TOWARD CHANGE"

THE NEXT PROJECT was a series of magnets sent to about 2,000 people in the district.
The core message of the campaign was that when enough of us recognize that big change
is
possible, we will finally make it a reality.
The idea behind the magnets was that people could stick them to their fridge, and every day be reminded that the big changes we are trying to make in the world, or even in our own lives, are possible:

"THE WALL OF IMPOSSIBLE IDEAS"

CONTINUING WITH THE CAMPAIGN'S THEME, we erected a bulletin board located in front of my house, called
The Wall of Impossible Ideas.
The concept was for people to pin their own "impossible" ideas to the wall. It was fun to come home every night and see what new ideas and messages had been added.
We also published a video explaing the wall
here
.
ITISPOSSIBLE.TO
— Finally, we quickly put together an online version of the wall of impossible of ideas, called
itispossible.to
.
We would upload images of the ideas posted to the physical wall, and vice versa. In this way, we hoped to generate even more ideas, and the momentum to realize them.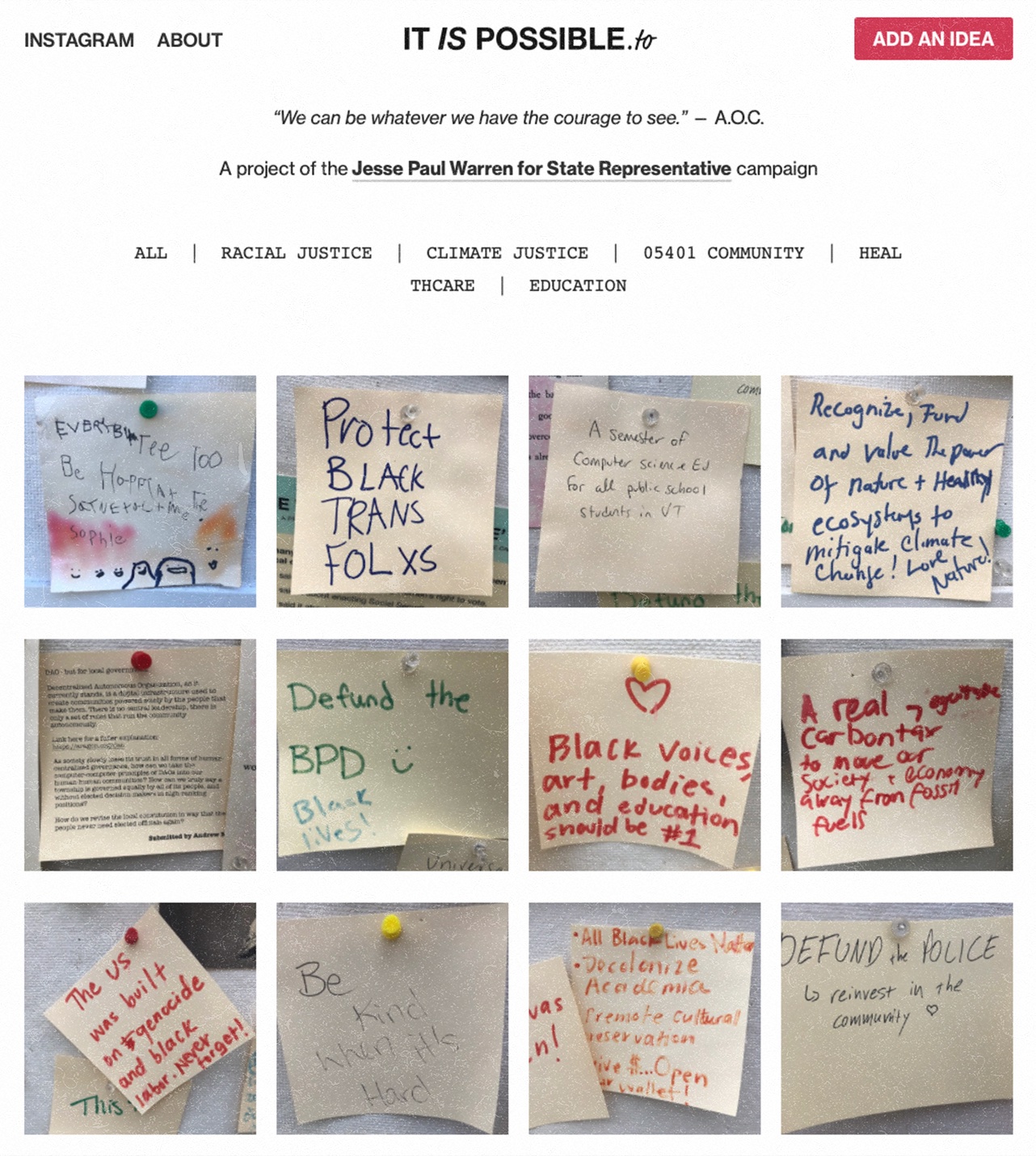 THE CONNECTION BETWEEN CREATIVITY & PROGRESSIVISM
— During the campaign, I also further laid out my beliefs on why creativity and art is so strongly connected to political change, through a progressive lense. That video is available
here
.
IN THE END
— Ultimately, I did not win. It was a very competitive 5 way race. I don't know what else we possibly could have done to win.
Looking back on the campaign, I'm proud of what we did. It was a true exploration. I still believe in what I discussed during my
final explanation of the campaign.
And I remember waking up one morning, and seeing this. I took it as a little sign of hope that win or lose, I was on the right path.